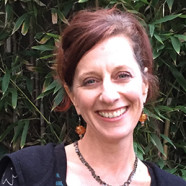 I have been working in the field of the body-mind arts for over 20 years, first as a bodyworker. I was certified as an acupressurist by the Acupressure Institute in 1993, and became moved by how people would have emotional responses when receiving touch. 
As emotions and memories surfaced for clients on the bodywork table, I wanted to be able to help people explore more deeply the issues that arose, received a Masters degree at The California Institute of Integral Studies in the Somatic (body-oriented) Psychology Program, and upon completion, went on to become a licensed Marriage and Family Therapist in 2002 (lic. # MFC39321). I have trained in various schools of somatic psychotherapy, including the San Francisco Hakomi Institute and Stanley Keleman's Center for Energetic Studies, as well as practicing and teaching martial arts. I have trained in and worked with trauma and post-traumatic stress disorder, with people ranging from individuals and families in Oakland and Berkeley, to refugees from Central America and Southeast Asia. Clients with these experiences have been survivors of political torture, rape, child abuse, and other kinds of violence.
Along with the practice of mindfulness, I like to bring a sense of warmth, playfulness and humor to the serious work of human growth. I've been involved in the arts since childhood and have worked in painting, video and filmmaking, and music, and feel passionately about the creative process and its place in our human experience. My experience as a mother of two adds a richness to my work with people, particularly in bringing compassion and understanding of the extraordinary challenges and rewards involved in raising children. I also have the pleasure of supervising Marriage and Family interns who are working towards their psychotherapy licensure.
Here's what I will do:
Listen carefully. Sometimes the most important information comes from things that are just under the surface of your awareness. I am trained and skilled in listening to what's not being said, and I can help you become more aware of these deeper parts of yourself. This allows you to expand the ways you think, feel, and act, get in touch with what limits you, and point you towards the choices you have. Often, this is listening to what your body is saying. Ultimately, I will help you become the best listener to your own wisdom.
Help you find your voice. Helping you put words to your experience can give you clarity you didn't previously have.
Offer compassion. I'll stay with you in a place of compassion during your questioning, your suffering, your longing.
Ask for feedback. I'll always encourage you to tell me if you don't like something I said or did, or if you are feeling uncomfortable about anything that happens in our sessions. Relationships are never perfect. It is not a problem that there are miscommunications or conflict; what's important is how we respond to them. Unfortunately, many of us did not grow up with people with whom we could have conflict with and work through it in a safe way. I will deeply value the relationship we have, and I will be open and honest with you about what I see, sense, and feel, and will encourage you to do the same with me.
Accept you as you are, and be an ally for the change you want to make. Sometimes this may mean looking at things that are not always comfortable. I will support you in stepping into your "growing edge" as you are ready. Without this, we may stay comfortable, but growth is not possible.
Hold professional and ethical boundaries. I am bound by the professional legal and ethical codes of the psychotherapy profession, as well as my own personal ethics that honor and respect your confidentiality, and the professional nature of our relationship.
Here's what I won't do:
Sit and nod my head without giving you any input
Judge you for how you are feeling or what you are thinking
Tell you what decisions you should make
Shame you for how you feel, or for decisions you have made or make
Past Workshops and Groups:
Mindful Mamas: Mindfulness-Based Support Groups for New Mothers
Pandora's Vox: Embodied Singing Workshops
Unmasking Your Inner Critic: An 8 week series of identifying the inner critic, making a mask of it, and using it to move through the limiting patterns of the inner critic
Professional Trainings
I have offered the following trainings which may be available at this time upon request.
Embodied Arts in the Clinical Setting
Working Somatically with Adult and Child Victims of Psychological Trauma
Introduction to Sandplay Therapy
Introduction to Play Therapy
I have presented trainings and taught at the following Bay Area Agencies:
Jewish Children & Family Services of the East  Bay, Berkeley, CA
Clearwater Counseling Center (formerly La Cheim Children & Family Services), Oakland, CA
John F. Kennedy University, Graduate School of Holistic Studies (previously adjunct faculty) and The JFK Counseling Center, Pleasant Hill & Oakland, CA
East Bay chapter of The California Association of Marriage and Family Therapists, Lafayette, CA
California College of the Arts, Intern Training Center, Oakland, CA